ALBIXON is the only manufacturer in the world to receive a NSF safety certification for their retractable pool covers.
We're proud to tell you that ALBIXON safety enclosures meet all the safety standards of NSF International. NSF tests a wide variety of products to not only assess their level of safety, but their functionality and possible health impacts as well. Our compliance with these strict regulations means that you will be able to use an ALBIXON pool cover instead of installing a fence around your pool, as required by the law in America. The NSF certified products from Albixon complies with the by-laws for pool enclosures. Therefore most of the municipalities in North America will not require any additional permit for pool enclosures if original fence or pool enclosure installed during the initial pool permit application is kept.
Pool safety standards and regulations have been getting stricter due to an increasing number of drownings in private pools in the past 5 years. Because of this, building permits and pool registrations are now being more strictly enforced. In addition, every pool is required to be secured by an enclosure, which must comply with certain standards (ex. height, secured openings, self-closing). The enclosure can be a combination of a fence, wall, safety cover, gate, or another kind of structure, which surrounds the pool and restricts access to it and its surrounding area.
Our compliance with NSF standards means owners of an ALBIXON retractable pool enclosure already fulfill this requirement of the law. ALBIXON is the first retractable enclosures company in the world to receive the NSF certification for its products, allowing them to be used as a safety pool enclosure. ALBIXON covers are specially designed with locking modules and certified self-closing doors which can be used as a safety feature, according to US legislation.
"It took us over a year to receive the certificate," said Alena Rozsafna, Marketing Specialist at ALBIXON."We had to present all kinds of calculations, change our processes, and implement required technical changes. Finally, our enclosures underwent physical testing required by the NSF. Pool safety is a huge issue in North America, which is why we value our certification received in the USA even more." she added.
Statistical data from WHO (World Health Organization) shows an increasing number of drownings in private pools. According to Lifesaving Society of Canada, private pools account for 10% of all drownings in Ontario. The 2016 drowning report prepared by Lifesaving Society reveals that children under the age of 5 are the most vulnerable group. The report also stated that 19 children 0-4 years old drowned in a private backyard pool, making it the most common setting for drowning in this age group (41%).
The risk of drowning in private pools can be dramatically reduced if proper safety measures are applied. Retractable pool covers are an effective solution for reducing this risk. The newly acquired NSF certification applies to all ALBIXON retractable pool enclosures, allowing our clients to enjoy safe pools, while having a longer swimming pool season in warm, and clear water without hours of time spent on cleaning and maintaining swimming pools.
ABOUT NSF International: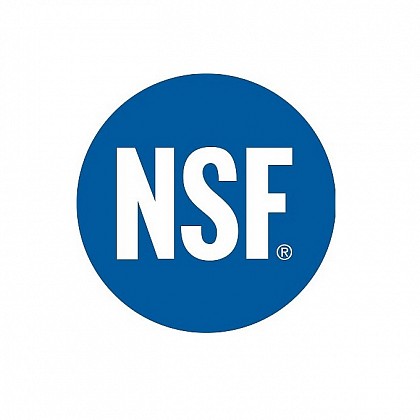 NSF is an independent American certification association, which assesses the functionality of a wide variety of products, plus their safety and health impacts. In addition, NSF defines public health and safety standards, and performs tests and certifications in order to protect consumers and the environment. NSF evolved from a solely US association into a world-renowned safety certification body. Well-known brands like Dodge, Ford, and gardening company Fiskars are among the many companies whose products are certified by NSF.